Internet Explorer 10: Microsoft ramps up its release schedule
(Read article summary)
The Internet Explorer 10 preview follows close on the heels of the full launch of Internet Explorer 9.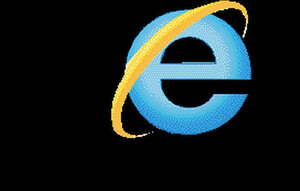 Newscom
Internet Explorer 10 is a go. Earlier this week, the team at Microsoft made available for download a limited preview of IE10, which is expected to launch about a year from now. (A caveat: The preview will only work on Windows machines. Sorry, Mac people.)
"We built IE9 from the ground up for HTML5 and for Windows to deliver the most native HTML5 experience and the best Web experience on Windows," Microsoft reps wrote over on the IE blog. "IE10 continues on IE9's path, directly using what Windows provides and avoiding abstractions, layers, and libraries that slow down your site and your experience."
Internet Explorer 9, of course, was released last month by Microsoft; the browser was downloaded 2.35 million times in the first 24 hours after its launch. (To look at it another way, IE9 was downloaded 27 times a second.) Over at PC Mag, Lance Ulanoff posits that perhaps Microsoft is picking up the pace a little – and learning something from a certain very voracious crosstown rival.
---