BlackBerry PlayBook review roundup
(Read article summary)
BlackBerry PlayBook enters a market dominated by the Xoom and iPad 2. Does the new RIM device really have what it takes?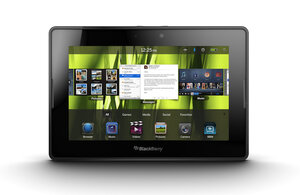 Newscom
Say hello to the BlackBerry PlayBook, the latest machine to enter a rapidly-widening tablet market. The PlayBook is sleek, stylish, and priced to match the Apple iPad 2 and Xoom on price: $499 for a base-line model, and $699 for a top-of-the-line tablet. So how does the BlackBerry PlayBook stack up to its competitors? Let's take a look at the latest reviews.
The opening shot
"In some respects, the PlayBook is the most impressive tablet I've seen to date," writes Melissa J. Perenson of PC World. "Its approach to navigating among open apps is a joy; I was able to move among them faster than on any other tablet. But native apps like the PlayBook's browser have disappointing glitches, and you won't get much help from downloading third-party apps--only 3000 will be available at launch (compared with the 65,000 available for the iPad), and I still haven't seen many marquee names among them."
The design
---