iPhone 5 prototype released to developers. Or is it iPhone 4S?
(Read article summary)
iPhone 5? iPhone 4S? Too early to nail down a name. But the new handheld sports a speedy A5 processor, according to a new report.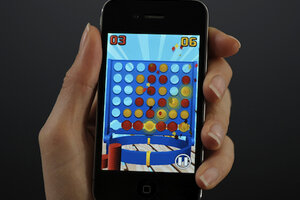 Newscom
iPhone 4 units kitted out with the new A5 chip are being sent to a handful of developers, according to a new report from 9to5mac.com. The A5 –– which already powers the iPad 2 –– is a next-generation processor, capable of chewing through data approximately nine times faster than the A4, the chip currently found in AT&T and Verizon iPhone 4 handsets.
So why should you care? Well, because it looks like this A5 chip will be a centerpiece of the advertising campaign for the new iPhone 5. "[W]e have heard Apple is going to push this gaming performance and speed as one of the next-generation iPhone's major marketing points," Mark Gurman of 9to5mac.com wrote today. Gurman does not identify his source.
---