Bin Laden and Twitter: Tracking major moments through ones and zeroes
(Read article summary)
News of Osama bin Laden's death broke on Twitter, and drove up Web traffic worldwide.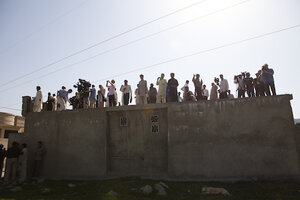 Newscom
The Internet –– good for disseminating pictures of cats, and also good for changing the way that everyone in the world experiences major historical events. Earlier this month, a team of SEAL commandos burst into a compound in Pakistan and killed Osama bin Laden, the head of the Al Qaeda terrorist network. In years past, news of the raid would have been tightly controlled by the White House, and released to the press in careful, pre-apportioned doses.
But in 2011 –– the era of Twitter, Facebook, and 24/7 blasts of news and chatter –– the whole thing played out very, very publicly – and loudly.
Consider first the way in which the news of the raid was first broadcast. On the evening of May 1, a tech consultant named Sohaib Athar used Twitter to unwittingly live blog the arrival of US forces in the city of Abbottabad, beginning with the (apparently noisy) arrival of American choppers and the clatter of gunfire. "Interesting rumors in the otherwise uneventful Abbottabad air today," Athar wrote.
---