LulzSec sting: UK nabs alleged hacker
(Read article summary)
Scotland Yard arrests a man with alleged ties to LulzSec. While initial reports fingered the suspect as a "mastermind," LulzSec called him only "mildly associated" with the group.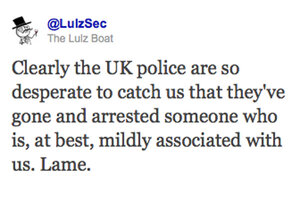 Twitter.com
Days after hackers from the Lulz Security (LulzSec) group attacked websites in Great Britain and the United States, a man was arrested in the UK on Tuesday in a joint Scotland Yard and FBI anti-hacking sting. Police did not named the man, but the BBC identified him as a 19 year old from Wickford, Essex. He was arrested under Britain's computer misuse and fraud acts.
A Scotland Yard spokesman said the arrest followed an investigation into distributed denial-of-service attacks against international businesses and intelligence agencies, and that after the arrest, police were investigating material believed to be related to the attacks. Distributed denial-of-service attacks are designed to shut down websites by overwhelming. Scotland Yard would not say who was behind the hacking attacks, but speculation was widespread that they were carried out by LulzSec, the Internet "anti-security group" that appeared last month and has since become notorious for pranks and attacks against groups ranging from the US Senate and the CIA to Sony and PBS.
---