New iPhone 5 rumors point to "radical new case," August release
(Read article summary)
Ready for the iPhone 5? A prominent rumor blog, with a decent batting average, reports that Apple will announce its next model in August. But will the iPhone 5 get a brand new look?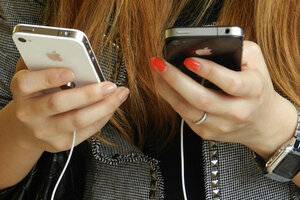 Newscom
The iPhone 5 will be a new, fully redesigned product – rather than an updated iPhone 4 – with a "radical new case design," according to rumor site Boy Genius Report.
Over the last few months, some developers have been given access to an iPhone 4 with updated internal hardware (dubbed the "iPhone 4S" by blogs), giving rise to the rumor that the next iPhone would maintain the same case design as the current model.
BGR's announcement of a fully-redesigned phone complements an earlier prediction from Thisismynext. The tech site reported that the iPhone 5 could be thinner than the current iPhone, with a teardrop-shaped case that would taper from top to bottom, giving it a profile similar to the MacBook Air computer. This new rumor also meshes with an earlier one that Apple has purchased machines capable of cutting curved glass, which would allow it to give the iPhone 5 a sleek, tapered case.
---