Who will buy Hulu? Eyes turn to Apple.
(Read article summary)
Hulu would make an interesting acquisition for Apple. But analysts disagree on whether Hulu has serious bids.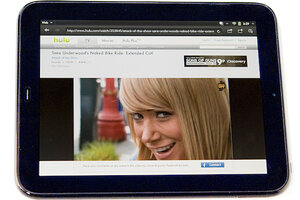 Newscom
Apple is considering a bid for Hulu, the streaming video service launched in 2007, according to Bloomberg News. The acquisition – news of which Bloomberg attributes to a pair of inside sources – would help Apple challenge Netflix on the streaming video front, and possible bring an added layer of dynamism to Apple products such as the iPhone and the iPad.
"Part of the ecosystem of Apple's future is to include more video," Scott Sutherland, an analyst at Wedbush Securities, told Bloomberg. "It's something they are focused on." That makes sense: Witness the proliferation of iPad tablets and even the disc-drive free MacBook Air. Streaming video, clearly, is here to stay, and Apple is gearing its hardware toward it.
---