iPhone N94 prototype: Is this the new 'budget' iPhone?
(Read article summary)
iPhone N94 prototype photos published by MacPost are being cited as evidence that Apple is close to releasing a budget device.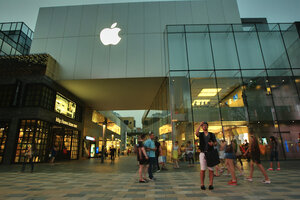 Newscom
It is certainly no secret that Apple will soon release an updated iPhone, likely as soon as this fall. The most recent scuttlebutt puts the device launch on the first Friday in October, with Apple unveiling the device and accepting pre-orders in late September. The iPhone 5, or whatever the new iPhone is going to be called, will probably ship with an improved processor, NFC technology, and possibly a rejiggered casing and curved touchscreen.
But even as the iPhone 5 launch draws closer, tech blogs have breathlessly speculated on a second device, as of yet unconfirmed: A cheaper iPhone, which Apple would use to snag customers put off by the traditionally steep iPhone price tag. Now MacPost has published photos of a prototype iPhone device, and an LCD panel labeled "N94 EVT 1," indicating – according to Apple Insider – that the device was in the Engineering Verification Testing phase.
Standard caveats apply.
---