Will the Kindle Fire change the way tablets are sold?
(Read article summary)
The Kindle Fire may not be an iPad-killer. But it will certainly change the tablet landscape.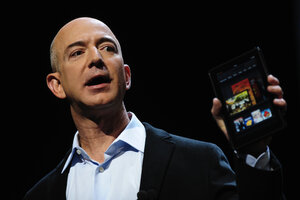 Newscom
The Kindle Fire, the long-awaited tablet from Amazon, is already off to a solid start. So says tracking firm eDataSource, which has reported that 95,000 Fire pre-orders were placed in the 24 hours after the Amazon tablet was first unveiled. Part of the appeal of the Kindle Fire, of course, is the price, which undercuts even the cheapest iPad by $300, in the process opening tablet technology to a whole new audience.
"Essentially, we believe the Kindle Fire addresses a different market than the iPad 2, a tablet-light user on a tight budget that may not have yet purchased a tablet or already use a Kindle," Ticonderoga analyst Brian White said in a recent note to clients, according to the Washington Post. In other words, the Fire isn't an iPad-killer. Instead, it's a market expander, a carefully-priced device which could change the very way tablets are sold.
---
Follow Stories Like This
Get the Monitor stories you care about delivered to your inbox.