What's next for Skype?
(Read article summary)
Skype officially becomes part of Microsoft Friday. But former Skype CEO Tony Bates says user experience will remain largely unchanged.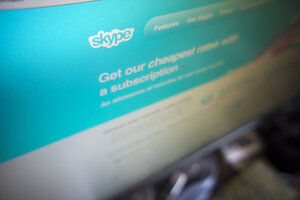 Newscom
In May, Microsoft announced it would acquire Skype, a popular VoIP platform, for roughly $8.5 billion. At the time, representatives for both Microsoft and Skype framed the deal as a win-win – Microsoft would get full access to Skype's range of desktop and mobile apps; Skype would get a pile of dough, along with the backing of one of the biggest corporations in the world.
On Friday, Skype officially became part of Microsoft, an occasion which former Skype CEO – and current Microsoft employee – Tony Bates labeled "a huge leap forward in Skype's mission to be the communications choice for a billion people every day." So what's next for Skype? Will the company drastically change its interface? Well, not exactly.
"The answer is an emphatic no," Mr. Bates said in a video today (hat tip to Computerworld for the transcription). "The value proposition of Skype is being multiplatform across different devices, whether it's PCs, desktops, mobile phones, whether it's in the living room, and that's key and that must stay. And we're committed to that."
---
Follow Stories Like This
Get the Monitor stories you care about delivered to your inbox.