$99 tablet computer: Android hardware gets cheaper than ever
(Read article summary)
A $99 tablet computer, with Android 4.0? It could be closer than you think. But is a $99 tablet computer too cheap to be worth anything?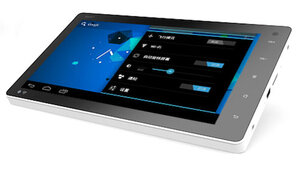 MIPS Technologies
Last month, Amazon launched the Kindle Fire, a tablet designed primarily to sell a whole lot of Amazon content, from books to music. Amazon, as we reported in November, actually takes a hit on each Kindle Fire it sells – the tablets cost an estimated $201.70 to build and sell for a bargain-basement-low $199. Yup, 200 bucks! Not bad for a full-featured tablet.
But it's not as cheap as the $99 tablet computer offered up this week by the folks over at MIPS Technologies. According to copy posted on the MIPS site, the Ainovo Novo7 ships with a 1GHz single-core MIPS processor, Wi-Fi and 3G capability, front and back-facing cameras, a 7-inch touchscreen, and – best of all – Android's 4.0 Ice Cream Sandwich operating system.
"I'm thrilled to see the entrance of MIPS-Based Android 4.0 tablets into the market," Andy Rubin, Google's senior vice president of mobile, said in a statement today. "Low-cost, high-performance tablets are a big win for mobile consumers and a strong illustration of how Android's openness drives innovation and competition for the benefit of consumers around the world."
---