iPad 3 rumors: What we know, don't know, and think we know
(Read article summary)
IPad 3 rumors point toward early 2012. So what kind of features will be included? Here's a roundup of iPad 3 rumors, with a little context as to whether you should believe the scuttlebutt or not.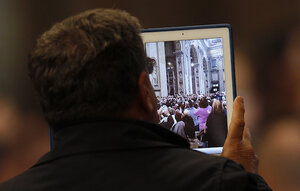 Reuters
IPad 3 rumors increasingly suggest that the new Apple tablet will hit shelves in early 2012 – perhaps even as soon as February. The iPad 2, of course, with its dual-cameras and upgraded innards, represented a sizable leap forward from the original iPad. So what kind of improvements can we expect from the iPad 3?
A caveat: Apple's notorious secrecy makes such hypothesizing both fun and – in its own way – futile. Still, there's plenty of information out there, some of it probable, some of it doubtful, and some of it a little silly. Let's break it down.
As we noted yesterday, Citi analyst Richard Gardner recently penned a note to investors, forecasting the arrival of the new iPad. He predicted that the display on the new iPad will sport more than double the resolution of the previous model. "[T]here do not appear to be any significant technical hurdles remaining," Gardner wrote, according to Business Insider.
Also look for a new camera on the iPad 3 – par for the course for Apple, which regularly improves the quality and megapixel-count on its iPhone cameras. Plus, Eric Zeman points out today at Information Week, it's not like the lenses on the current model iPad are winning any rewards.
---