Google gets $25K fine for 'impeding' FCC probe into Street View
(Read article summary)
The FCC has fined Google $25K for stonewalling government investigators.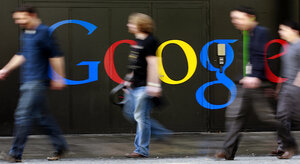 Reuters
The FCC is slapping Google with a $25,000 fine for "willfully" and "deliberately" obstructing a government investigation into the Street View project. The backstory: For years, Google regularly dispatched specially-equipped vehicles to collect photographs and data from streets around the globe. In the process, according to an FCC probe, Google also scooped up a bunch of personal information from un-passcode protected Wi-Fi routers.
Google has apologized and promised that none of the data collected by the Street View vehicles would ever be used. But after one Google engineer – identified in court documents as "Engineer Doe" – invoked the fifth amendment, the FCC accused Google of stonewalling. More specifically, the FCC claims that Google did not make certain internal e-mails available to investigators.
---