The Apple iPhone goes prepaid, courtesy of Cricket
(Read article summary)
Cricket Communications will begin offering a prepaid iPhone to US customers.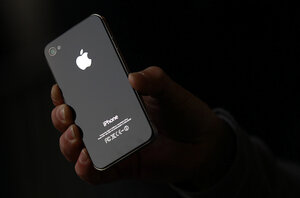 Reuters
Cricket Communications, a subsidiary of Leap Wireless, will become the first prepaid carrier in the US to offer the Apple iPhone.
Here's how it works: Beginning on June 22, you can march into any Cricket store and plop down $500 for a new iPhone 4S or $400 for a new iPhone 4. Cricket voice and data plans, meanwhile, will set you back approximately $55 a month. In exchange, you don't have to worry about the hassle of a contract.
Other American carriers want about $300 for the 4S (depending on hard drive size) and $99 for the 4. Monthly service plans range from $80 to well more than $100 – plus there's a two-year contract. Buying an iPhone without that contract costs north of $600.
Until recently, of course, consumers had essentially two options when purchasing an iPhone: paying a fortune for an unlocked model, or signing a two-year contract with Verizon, Sprint, or AT&T. "Our customers want the best products available," Doug Hutcheson, chief executive officer of Leap, said in a statement. "Launching iPhone is a major milestone for us."
---