At $249, new Google Chromebook aims to undercut Macs and PCs on price
(Read article summary)
Google has introduced a pair of new Samsung-manufactured Chromebooks, both of which run the Chrome OS. The 3G edition will retail for $329 and the Wi-Fi version for $249.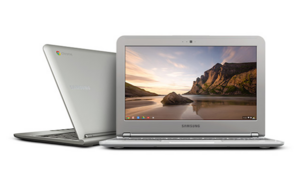 Google
Google this week took the wraps off a pair of ultralight Chromebook computers, both of which will be manufactured by Samsung and outfitted with the Chrome operating system – not Mac OS or Windows. The newest Chromebook is set to ship at two price points: $249 for a Wi-Fi-only edition and $329 for a 3G version.
The Wi-Fi Chromebook goes on sale Monday at a range of retailers, including BestBuy and Staples. The 3G Chromebook, meanwhile, will likely launch a week later; you can pre-order the device at Newegg.com, Amazon, and the Samsung Website.
The Chromebook gets an 11.6-inch screen – roughly on par with the smaller MacBook Air – a 16GB solid-state hard drive, a pair of USB ports, and a listed weight of 2.43 pounds. (The 11-inch Macbook Air, by comparison, weighs 2.38 pounds.) Users will get a bunch of free Google Drive storage and automatic updates for the Chrome OS. So how does the latest Chromebook stack up to its competitors?
---