Facebook $1 fee? New scheme aims to make money, cut spam.
(Read article summary)
New from Facebook: $1 fee to send priority messages to people outside of your social contacts. This Facebook $1 fee feature isn't available outside of the US yet, but the social network could expand it if it proves popular.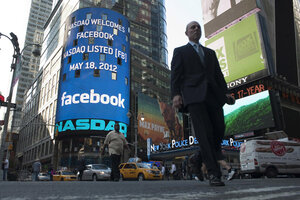 Keith Bedford/Reuters
Cutting Facebook spam is great. But letting people pay to get priority seats in your inbox? That could be a dicier proposition.
Facebook announced a number of updates to its Messaging platform on Thursday, but the most interesting news was something the company called a "small experiment": giving a select group of Facebook users the ability to pay a small fee to have a message delivered to the inbox of someone outside their circle of friends. The cost to do so? $1, reports the Wall Street Journal.
A little context: right now, you can send messages to anyone on Facebook, regardless of whether you're friends with that person or not. But pretty soon the social network will begin automatically capturing mail from unknown people (those who aren't friends or friends of friends) before it reaches the inbox, filtering it into a catch-all "Other" folder.
The upshot of this plan is that messages that you see in your inbox are more likely to be from people you actually know. The downside is that the filters make it more difficult to reach people you aren't already friends with. If you were to contact a company's HR representative about a job opening, for example, your message would likely get shunted to the "Other" folder, where it would be less likely to be seen.
---