Medal of Honor ban over 'Taliban' furor
Medal of Honor ban could slam sales of this new military video game, or give this franchise reboot the media push it needs to compete with Call of Duty. But is the Medal of Honor ban still necessary after its name change?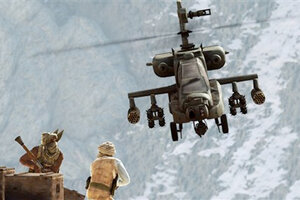 Screenshot of the game from Electronic Arts/AP
A Medal of Honor ban?
Electronic Arts Inc., responding to criticism that its new video game was insensitive to Americans killed in Afghanistan, said this month it would alter its upcoming edition of Medal of Honor so that players could not assume the role of the Taliban attacking U.S. and British troops.
But game players still will be able to battle U.S. forces and "kill" Americans. They just will be fighting under the generic name of "opposing forces," or "OpFor," the company announced on its blog.
The decision comes after the U.S. military banned sales of the game, scheduled for release Oct. 12, at nearly 300 stores located on its bases. Maj. Gen. Bruce Casella, who commands the Army & Air Force Exchange Service, which oversees military base shops, said "the life-and-death scenarios this product presents as entertainment" could upset the families of those who have died in the war.
---