Twitter taking on reality TV?
Anonymous sources told Adweek that Twitter has been meeting with reality television producers and executives to showcase an "original video series" similar to "The Hills" and "The Real World."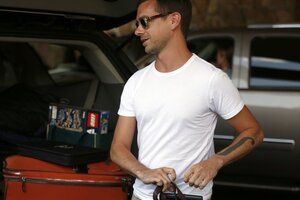 Jim Urquhart/Reuters
Twitter's take on reality television for the social media era may be coming soon to a tweet near you.
The company is schmoozing with Hollywood producers and network executives in an effort to get several original video series to air exclusively on its information network, said sources who spilled the beans to Adweek. Twitter declined to comment.
Specifically, an MTV-style reality series similar to The Hills or the The Real World is said to be in development and may be hitting Twitter's alternative airwaves as soon as this fall. Twitter has already shopped around the video project to advertisers, the sources said.
"Per sources, the show could live on a standalone Twitter page similar to the events page that Twitter launched in partnership with Nascar in June, although the series' page would more closely resemble a microsite in order to feature an expanded video player," said the report. "Another possibility is that the series would be distributed within tweets — promoted, organic or pinned to a brand's Twitter page — with users clicking to expand the tweet into a full-fledged video player."
---