HTC growth likely to be eclipsed by rivals
HTC is not expected to sustain growth into the third-quarter and will likely be eclipsed by rivals Apple and Samsung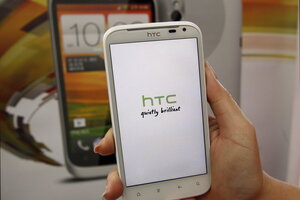 Pichi Chuang/Reuters/File
HTC may not sustain sales growth into the third-quarter as the glow around the Taiwanese smartphone maker's flagship model is likely to be eclipsed by new products from bigger rivals Apple Inc and Samsung Electronics Co Ltd.
Strong sales of the latest version of the HTC One, as well as the colorful Butterfly range, boosted HTC's second-quarter net profit surged to T$1.25 billion ($41.63 million) from a record low in the previous quarter when a shortage of camera components delayed its product launch.
The profit figure, however, lagged forecasts and analysts said the sales growth was likely to be short-lived. Sales for the July-September quarter are expected to remain little changed from the previous quarter and few new products are in the pipeline.
The company has also cut back on component orders for the quarter, which traditionally sees higher sales, several analysts said. BNP Paribas, in a recent research note, said it expected overall third-quarter orders to remain flat from the second-quarter.
"HTC may have new products in Q3, but competition from Apple and other Chinese brands are fierce," said Taipei-based analyst Peter Liao of Nomura Securities. "It'll be hard to keep the growth."
---