3D looms into movie universe
Success off 'Monsters vs. Aliens' confirms digital 3-D's draw, and studios are leaping at the opportunity.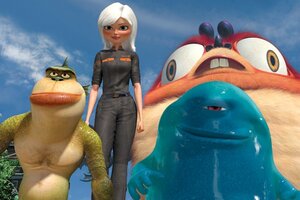 MCT/NEWSCOM
From an eager director keen to tell a new kind of story to a theater owner eyeing a sevenfold rise in premium-priced tickets to even a Hollywood studio trying to predict the future, there's only one story in town these days: 3-D.
Not the old films with red/green plastic anaglyphic glasses used to make spears and tennis balls "pop" into audience's faces, but a mature, digital system with lightweight, polarized specs used for everything from major sports and cultural events – an NFL game or a U2 concert – and by such Hollywood names as Stephen Spielberg, DreamWorks, Disney, Johnny Depp, and Pixar.
This is what director and longtime 3-D champion James Cameron calls a "renaissance" for the technology, one that is finally viable for serious filmmakers.
"This really expands the lexicon of filmmaking," says Paul Dergarabedian, film analyst for Hollywood.com. The new digital, stereoscopic technology is a director's tool that gives audiences a broader moviegoing experience, he says, adding that it also provides a bright spot for beleaguered theater owners and studio executives facing a long-term erosion of the moviegoing habit.
---
Follow Stories Like This
Get the Monitor stories you care about delivered to your inbox.