More computer brands chase the '$100 laptop'
Bye bye, bulk. New lines of tiny PCs fit both in your purse and into third-world classrooms.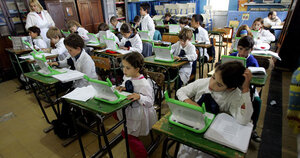 Marcelo Hernandez/AP
The laptop computers most people haul around are underutilized. They hardly break a sweat to read e-mail, stream video, view photos, browse the Web, or run word-processing or spreadsheet programs. Their powerful processors are rarely tested except by heavy-duty gamers, scientific researchers, or other specialized users.
So while some PCs continue to bulk up and tout their speed and raw power, others represent a new trend: slimming down. Way down. These smaller, simpler machines are aimed at a potentially lucrative market: the next 1 billion PC users around the planet.
The market segment is so new it doesn't have a name yet or even an agreed-upon set of specifications. Intel, the chipmaker, calls the category "netbooks," recognizing that much of what people do on their laptops involves going on the Net. The new machines are also being called ultra-low-cost PCs, mininotebooks, or even mobile Internet gadgets.
In appearance, they have the familiar clamshell design, but they're smaller, with seven- to 10-inch screens. They offer full keyboards (albeit with smaller keys) and weigh less than three pounds. Perhaps most important, the majority cost less than $500 – some as little as $299.
Intel says it expects more than 50 million of these netbooks to be sold by 2011. It's introduced a tiny, low-power processor to run them called Atom, which puts 47 million transistors on a chip about the size of a penny.
Seventy to 80 percent of tasks people do on computers today are online, says Uday Marty, the marketing director for Intel's netbook products. Intel has created the Classmate PC to show the potential market for students around the world. In Brazil, they're sold under the Postivo brand. In India, Intel partners with HCL Infosystems to produce them.
---