Politics on Facebook brings trouble for young Egyptian
Ahmed Maher says he was arrested and tortured by Egyptian authorities for starting a group on the popular social-networking site that was intended to support a nationwide strike.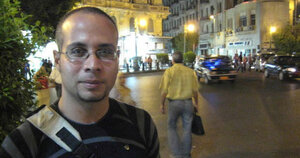 Liam Stack
When Egypt's secular opposition groups called for a nationwide strike to support disgruntled factory workers last April, Ahmed Maher wanted to help. So he did what many middle-class 20-somethings here do: He logged onto Facebook.
Two weeks before the strike, he and a friend, Esraa Abdel Fattah, started a group on the popular social-networking site to support the walkout and invited friends to join. But soon they realized they had much more than just a new Facebook group on their hands.
In Egypt, a country still under the iron-fisted rule of President Hosni Mubarak, even something as seemingly innocuous as Facebook can run afoul of the red lines around unacceptable political activity.
And as the popularity of the page grew, Egyptian authorities took notice.
"We started a group and sent it to 160 people on her friend list and 140 people on my friend list, and at the end of the day, there were almost 3,000 people in the group," says Mr. Maher. "We were both really surprised."
By the day of the strike, more than 60,000 Egyptians had joined the group, and Maher went into hiding rather than face the possible wrath of the country's feared State Security Investigations (SSI) unit.
When opposition leaders called a second strike, since the first one didn't materialize, he decided to stay on the run until it was over. He slept in his car, under his desk at work, and in friends' apartments. All the while, his family was watched by security forces.
"I heard rumors that state security might start taking people, so I got ready in case it happened to me," he says. "I would drive my car somewhere deserted and sleep there, or sleep at work. I tried to disappear."
---