Can plug-in hybrids ride to America's rescue?
The engineer behind many electric-car advances says oil's days may be numbered.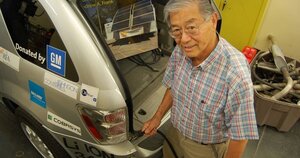 Mark Clayton
If the United States breaks its oil addiction, a measure of thanks will no doubt be due to Andy Frank, who some have dubbed the "father of the plug-in hybrid" car.
Laboring in near anonymity in his garage-style laboratory on a leafy byway of the University of California at Davis campus, Dr. Frank has for three decades focused on developing plug-in-hybrid technology. With his students, he has built nine plug-in vehicles since the 1990s, winning several vehicle contests sponsored by the Department of Energy and automotive companies.
Even so, Detroit showed little interest in the idea of plug-in hybrid electric vehicles (PHEVs) – until recently. With $4-a-gallon gasoline killing SUV sales, big automakers like General Motors, Ford, and Toyota have begun to talk about a future with plug-in hybrids – or even futuristic fuel-cell cars – instead of SUVs.
Plug-in hybrids go much farther on a single charge than an ordinary hybrid. Some converted Toyota Prius plug-ins get the energy equivalent of 100 miles (or more) per gallon and travel nearly 40 miles on electricity alone before a gasoline engine kicks in for longer trips. With their hefty battery packs, such hybrids can be plugged into a socket in the evening for a charge.
Since 78 percent of American commuters drive 40 miles or less each day, a plug-in driver might need only to fill up his tank with gasoline a half-dozen times a year. It's a game-changing concept that's won over many energy-security hawks and even environmentalists who had been married to futuristic fuel-cell vehicles, but now see plug-ins as a here-and-now way to fight global warming as well as freeing the US from imported oil.
---
Follow Stories Like This
Get the Monitor stories you care about delivered to your inbox.