Worldwide race to make better batteries
The US is a late entry, but new domestic projects are revving to go.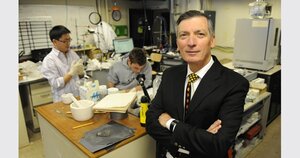 Mary Knox Merrill/Staff
Down in his basement laboratory at the Massachusetts Institute of Tech­nology, Donald Sadoway and his students are hunting for the perfect battery. Not for cellphones or laptop computers, but to power a future generation of automobiles or perhaps the electric grid.
To achieve that goal, we will need batteries many times cheaper, safer, more powerful, and more durable than today's best, professor Sadoway says. They must store enough juice to send a car 250 miles on a charge – and cheap enough to store solar or wind power for use at night and in calm periods, he says.
Risky, over-the-horizon research is vital because, although most Americans and politicians don't know it yet, the United States is in a global race to build a new generation of batteries based on lithium-ion technology, Sadoway and others say.
With double the "energy density" of today's standard nickel-metal-hydride batteries, lithium-ion cells have emerged as a viable first-generation battery chemistry to power plug-in hybrid vehicles (PHEVs), major announcements this month reveal.
Such a battery is critical to President Obama's energy plan, which includes deploying PHEVs that go 40 miles on a charge in order to replace much of the nation's oil imports with US-generated electricity. As electricity replaces gasoline, the race to develop ever more powerful batteries will determine which nations emerge as winners in transportation, renewable energy, and economic clout, many say.
---