America's future wind web?
Wind power could feed 20 percent of the US energy diet. But first, the country needs a new energy network.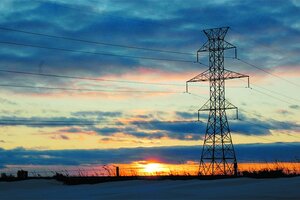 Mark Clayton
Out across this wind-swept, wheat-growing state, Jeffrey Nelson sees a new crop rising – electricity from the world's largest wind-turbine farms sending electrons thousands of miles east to Chicago or Boston.
But it's a vision the South Dakota Wind Energy Association president says will never happen without something far larger, more controversial, and even more expensive: gigantic new high-voltage transmission lines.
Depending on whom you talk to, emerging plans to build 765,000 volt transmission lines to bring power from the "Saudi Arabia of wind" in the Dakotas to population centers in the Midwest and East Coast are either vital to the nation or a boondoggle waiting to happen.
"This state has vast resources it can't use without building new power lines," says Mr. Nelson, gesturing at lines on a grid map at the East River Electric Power Cooperative in Madison, where he is manager. "These high-voltage lines are like farm-to-market roads, but instead of wheat, it's electricity being transported. We need to think in those terms."
Many are clearly doing just that.
---