The new science of glass
Glass architects and engineers are balancing aesthetics with performance.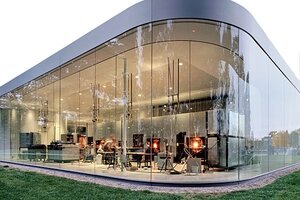 Courtesy of Floto+Warner/The Toledo museum of art
Eighty-one years ago, architect Frank Lloyd Wright marveled at an old material that he helped give new meaning.
"What is this magic material, there but not seen if you are looking through it?" he asked in an essay. Mr. Wright responded to that question – one that has fascinated architects and engineers before and after his work – by calling glass a "supermaterial" and frequently incorporating it into his designs. With prescience, Wright believed that future buildings would be constructed where "Walls themselves because of glass will become windows and windows as we know them as holes in walls will be seen no more." Would Wright be surprised to see how his vision of glass architecture has come true in 2009?
The prevalence of towering glassy skyscrapers would probably not shock him – but the changing nature of glass itself might.
"Glass has become less about abetting observation; it is something to be observed in itself," explains Michael Bell, a professor of architecture at Columbia University, in his recent book and DVD "Engineered Transparency – The Technical, Visual, and Spatial Effects of Glass."
In a phone interview, Mr. Bell says that glass is no longer a single material, "but the name of the family of building materials 'rewritten' by new technologies."
Thanks to breakthroughs and continued stoking by architects, engineers have created glasses capable of things Wright would have never dared to attempt. In doing so, Bell says, "glass may have become something other than glass."
---