Electric SUVs: A smaller footprint for big vehicles
Converting existing gas-guzzling trucks and SUVs into hybrid and electric vehicles gains traction.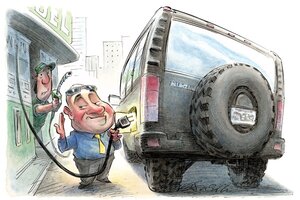 Dan Vasconcellos
Tom Reid likes his ride big – a 2000 Ford Explorer SUV with plenty of interior room and all the amenities. None of those prissy little hybrid vehicles will do for him.
But after gas hit $4 a gallon last year, Mr. Reid had a big fuel bill, too – and an epiphany: convert his gas guzzler to an all-electric vehicle.
So he did. Now Reid's bright idea has become a sideline business for his shop, HTC Racing, which produces specialized protective coating for automotive and other metal parts in Whitman, Mass. He offers kits to convert any 1995-2004 gas-sucking Ford Explorer into a cheap-to-keep, no fuel, little maintenance all-electric SUV. Cost: $15,000.
He admits that the idea may be "ahead of its time." Reid has yet to sell a single kit. With gas at only $2.50 a gallon, the conversion cost is too much for even SUV-loving die-hards. But if gasoline prices soar again, Reid says he'll be ready – and he won't be alone either.
Converting America's vast existing fleet of gas-guzzling SUVs and pickup trucks into electrified vehicles is an idea percolating among policy wonks, start-up companies, and fleet owners such as FedEx and the US Postal Service.
Despite all the hoopla over Detroit's move to make plug-in hybrid and all-electric vehicles, there's a need for a speedier US shift away from oil in order to enhance energy security and slow the buildup of carbon in the atmosphere, says a small but growing chorus.
---