Conflict minerals: Genocide in your gadgets?
Firms try to limit conflict minerals in electronics. It's no easy task.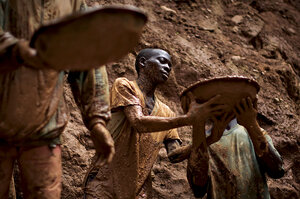 Finbarr O'Reilly/Reuters/File
Deep inside cellphones, iPods, and laptops lie four particular metals: tin, tantalum, tungsten, and gold.
These "Three T's" and gold are essential to the technology industry – but are also notorious among human rights groups. For years, warlords in eastern Congo have mined and sold the minerals to finance brutal conflicts and sexual violence.
"Rebel militias are making hundreds of millions of dollars off these materials – materials that go mainly into electronics," says Sasha Lezhnev of The Enough Project, a branch of the Center for American Progress that works to end genocide.
To shed light on the human cost of gadgets, The Enough Project released a report ranking tech companies by their efforts to rein in the use of conflict minerals. Only a handful of corporations received positive scores. However, Mr. Lezhnev says, consumer pressure has pushed those top few toward plans that could shut down conflict mines and improve the entire industry.
While Congo holds a significant share of the world's Three T's, other mines – often safer and better-paying mines – dot the globe. Yet some smelters favor Congolese ore because it costs a third to half of the usual market price.
"In eastern Congo, you see child miners – no health or safety standards," says Lezhnev. "Minerals are dug by hand, traded in sacks, smuggled across borders."
This ragtag approach benefits the warlords in two ways, says Jason Sterns, former head of the United Nations Group of Experts on the Congo, who was not involved in the study. It keeps costs minimal and also obscures accountability.
---