Internet video service connects families and troops
Ustream.tv is donating Web cameras to help military families 'see' their soldier overseas.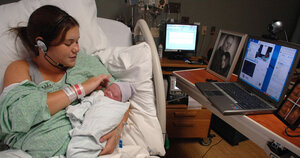 Bob Self/The Florida Times-Union
Before this month, Jason Witte wouldn't hear from his brother for five or six weeks at a time. Calls from Fort Worth, Texas, to Iraq were just too expensive, he says.
"It was hard letting so much time pass in between talks," says Mr. Witte, whose twin brother, Army Capt. Jeremy Witte, is serving his second tour in Iraq this holiday season. "He's my brother and my best friend, but I rarely got to hear his voice."
But now, despite the distance, they see one another three times a week. The Wittes connect through Ustream.tv, a live Internet video service. With a video stream of Captain Witte on one side and a simple webcam hooked up the family laptop stateside, the brothers can talk face to face once again.
"Having served in the Army for five years, I know it's tough to be apart from your family during the holidays," says John Ham, one of the website's founders. "Talking to your family is great, but actually seeing them is huge."
---