A 3-D look down the RabbitHole
Poster-size moving holograms set to invade ads and art.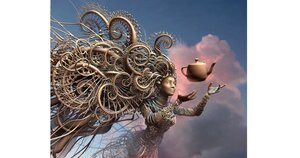 Courtesy of Meats Meier/RabbitHoles
At first glance, the artworks placed around the small framing workshop in artist Rolando Rodriguez's tiny studio appear to be blank sheets of Plexiglass.
But switch on an ordinary halogen lamp and suddenly – like a magical Harry Potter family portrait – lush, full-bodied images leap from the unassuming plaques: The outstretched fingers of a mysterious tentacled figure undulate alongside the coils coming from her head; a brooding, Gollum-like creature slinks at the rear of a room, then leaps out; and two skeletal beings lock in an embrace as they hover in the air.
These are the creations of a handful of pioneering digital 3D artists whose show (RabbitHoles 3-D Motion Holograms) launches the newly opened Gnomon Gallery, a showcase for entertainment-industry art in the heart of Tinsel Town.
But it is not just the images that are remarkable, say industry observers. It's new technology developed by RabbitHoles Media that enables them to display up to 12 seconds of animated holography that is having its "coming out" with this show.
The compelling visual effect is not reliant on video or movie film and does not require any special glasses. Rather, the RabbitHoles technology produces both the three-dimensional quality and animated movement from a single flat surface. It cutting-edge posters carry the potential of revolutionizing the worlds of entertainment, advertising, and art.
---
Follow Stories Like This
Get the Monitor stories you care about delivered to your inbox.