Screen wars: stealing TV's 'eyeball' share
Television, the long-dominant medium, becomes just one of many video outlets.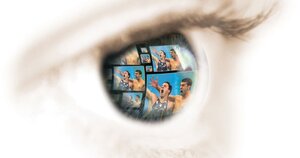 SCOTT WALLACE
Is this the summer that the Internet finally kills television as we once knew it?
Most industry observers are stopping short of that prediction, citing some significant hurdles still in the way. But the growing number of new deals and new devices being announced suggests that a profound change in the way people watch video – and what video they watch – is under way. The line between "television" and video via the Internet already has blurred and may disappear in coming years. At least one industry analyst has declared "TV is dead" and welcomes Americans to a new age of video everywhere.
Increasingly, Americans are watching video when they want to, and on the screen that suits them at the time. And more programming is from new sources that threaten to unlock Hollywood's domination of content. Video is now delivered on displays and devices of every shape and size, from gigantic theater screens and ever-larger home projector screens, to flat-screen HDTVs, to desktop and laptop computer monitors, to tiny personal screens such as those found on iPods and mobile phones.
Meanwhile, NBC Universal is touting its coverage of the Summer Olympics in Beijing as "the single most ambitious digital event coverage ever." Along with video coverage on several of its cable TV networks, NBC is streaming 2,200 hours of live competition in 25 sports on the NBCOlympics.com website.
"The Olympic viewer will be able to define his or her own Olympic experience like never before," said Gary Zenkel, the president of NBC Olympics, announcing coverage plans last month. Press coverage has speculated that heavy viewing of Olympics on workplace computers may cause systems to bog down or crash.
---