Physical newspapers aren't dying off – they're evolving
Column: I may not subscribe for home delivery, but I read the news more than ever.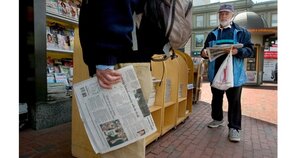 Melanie Stetson Freeman/Staff/File
I did something last month that I have not done in, oh, four or five years. I got a subscription to a print newspaper.
Not for me, but for my son. His civics and science classes require that he bring in one or two news stories a week for discussion purposes. So my wife and I thought that we'd get him a subscription to the local paper, so he could cut the stories out.
I'm not sure what we were thinking.
He doesn't use it, of course (except for the comics). Instead, he goes online, reads the news at media websites or news aggregation sites such as digg.com, and then downloads stories, pictures, and video for his reports.
Yes, that's right: video. He has a thumb drive that he pops into the computer, downloads the news clip that he wants to use, and plays it for his teacher in class. Just last night, he found a story at npr.com about the Large Hadron Collider in Europe that included a video of the "LHC Rap," written by one of the scientists. It's the best explanation of the darn thing I've ever seen. Today, he's going to share that with the class.
Something is happening to the news
The number of people in the United States who now have broadband access either at work or at home has not just reached a tipping point, but crossed over it. (More than 55 percent of Americans have high-speed access at home, according to a recent study by the Pew Internet & American Life Project.)
---