3-D enthusiasm is anything but flat
Like high-def television before it, 3-D technology is ahead of its content, and consumers are hungry.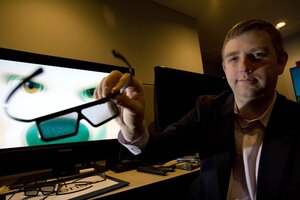 Stephanie Diani/Special to The Christian Science Monitor
South Central Los Angeles
In a converted warehouse near one of Los Angeles's toughest neighborhoods, a coterie of professional "techno-speculators" is playing around with what a growing number of entertainment industry folks hope the future of the small screen will be, namely 3-D.
This is the Entertainment Technology Center at the University of Southern California, where the Home 3D Experience Lab, ETC's newest brainchild, is currently housed in a bare-bones room. The 3-D lab just opened this past week and isn't complete yet, meaning the team is still assembling all the various iterations of 3-D as it will be experienced in consumers' homes. But the fundamentals are in place – glasses, screens, and playback devices – says Bryan Gonzalez, the lab's technical project specialist.
"For the state of the art in 3-D for the home environment, this is where the industry leaders can gather to discuss where it's going," says executive director David Wertheimer. The nonprofit research center is funded by content and technology companies, including nearly all the major film studios.
---