The Internet Safety Act launches a new battle on privacy
Column: Children need to be protected online, but these new bills go too far.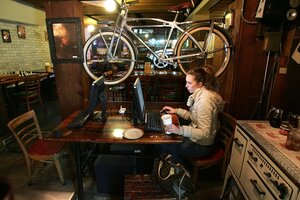 Tony Avelar/The Christian Science Monitor
If you haven't been paying attention, there has been a great battle taking place over tighter controls on the Internet. On one side are those fighting to stop child pornography or access to other questionable materials. On the other is privacy advocates who argue that the best thing about the Internet is how free and accessible it is and that it promotes democracy and free speech.
The latter forces have tended to win the day, especially after Congress enacts some new measure that clamps down on the Internet and the law is later challenged in court as a violation of the First Amendment.
The latest salvo in this ongoing, and often quite nasty battle was fired last Thursday by two Republicans from Texas: Sen. Jon Cornyn and Rep. Lamar Smith. The two men filed almost identical bills in the House and Senate with the same name: Internet Stopping Adults Facilitating the Exploitation of Today's Youth Act. Most people refer to it as simply the "Internet Safety Act."
The bill would require almost everyone who provides Internet access to retain all records for two years. Right now, that includes big Internet service providers (ISPs) such as Verizon or Comcast, the coffee shop that offers free wireless access, and me because I have an Internet router set up at home that is accessed by several people. CNET News noted that the day the acts were introduced in Congress, "both the US Department of Justice's position and legal definition of 'electronic communication services' line up with this [broad] interpretation."
---
Follow Stories Like This
Get the Monitor stories you care about delivered to your inbox.