Oprah tweets, Twitter arrives
With more than 14 million users, rumors of deals with Google, and celebrity Twitterers, the social networking tool has become all the rage.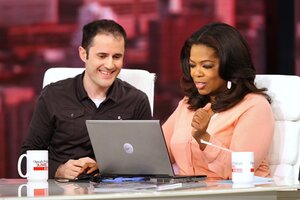 George Burns/Harpo Productions/AP
It was probably the highest profile tweet-up in the brief life of tweet-ups.
Oprah Winfrey met Evan Williams, cofounder of the social networking site Twitter, on her Friday talk show. Oprah wanted to tweet. Mr. Williams tweets. And the two make Twitter history.
Since its launch in March 2006, Twitter has had a meteoric rise, growing to more than 14 million users – much of that just in the past few months. The micro-blogging tool has helped create new online communities and spread information – about protests, parties, and, sometimes, just gossip – around the Internet at an ever-faster pace.
It even has its own language. According to the "twictionary" website (the name comes from meshing the words Twitter and dictionary), a tweet-up is a real-life get together between two or more people who connected through Twitter.
A tweet is a 140-character message posted on Twitter.
But can all of this twittering make Twitter money – it hasn't yet – and how will it influence the growing number of businesses, celebrities, and politicians that are excited by the marketing potential on the site?
Twitter is still figuring all that out, says Dom Sagolla, a software engineer who helped create Twitter and author of the forthcoming book "140 Characters," about how to effectively communicate on the site.
---