The basics: How cloud computing works
Many people are already using it to store files on the Web.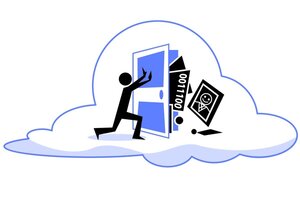 Rich Clabaugh/Staff
It sounds like a phrase ripped straight out of a sci-fi flick. But chances are, if you're a regular Web user, you already have a pretty solid grasp of what "cloud computing" really is.
Consider, for instance, the social networking site Facebook. When you upload a picture of your friends onto the site, and tag your faces in the photograph, you're engaging in a kind of cloud computing – those photos are now stored on the Web, as well as on your desktop. If you delete the photos from your computer, they will remain on the Web, accessible to you and your friends (until you two are no longer BFFs, and one of you rips the images down).
Years ago, during the first tremors of the dot-com rush, this cloud computing stuff was all pie in the sky. Tech gurus were fascinated by the concept, and a few programmers trotted out some serviceable fare, but accessible, mass-market software remained tantalizingly out of reach. Now, cloud computing is everywhere.
Folks keep their errand and grocery lists on Google Docs; they store snapshots from the family vacation on Flickr. Last month, Google said it was preparing an entire cloud operating system called Chrome, which will be available late in 2010. In a post on Google's blog, Sundar Pichai, the vice president of product management, and Linus Upson, engineering director, called Chrome OS "our attempt to re-think what operating systems should be."
---