Sony plans a Kindle rival with wireless downloads
Sony's $399 Reader Daily Edition will go on sale by December.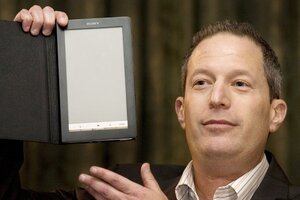 Mario Anzuoni/REUTERS
Sony Corp. plans to offer an e-book reader with the ability to wirelessly download books, injecting more competition in a small but fast-growing market by adopting a key feature of the rival Kindle from Amazon.com.
Sony's $399 Reader Daily Edition will go on sale by December, Sony executives said Tuesday at an event at the New York Public Library. The device has a 7-inch (17.5-centimeter) touch screen and will be able to get books, daily newspapers and other reading material over AT&T Inc.'s cellular network.
Sony has sold e-book reading devices with "electronic ink" displays in the United States since 2006, but has seen most of the attention stolen by Amazon.com Inc., which launched the Kindle with similar e-ink technology a year later. The latest version of the Kindle — which is not controlled by touching the screen — costs $299 and uses Sprint Nextel Corp.'s wireless network for downloads.
On Tuesday, Sony also began selling a "Pocket Edition" e-book reader with a 5-inch (12.5-centimeter) screen, for $199, and a larger $299 touch-screen model. Neither has wireless capability, so both have to be connected to a computer to acquire books.
Though Sony is following in Amazon's footsteps by adding wireless capability, its e-book strategy differs in crucial respects.
The only copy-protected books the Kindle can display are from Amazon's store, and the only devices the store supports are the Kindle, the iPhone and the iPod Touch.
---