Close call puts focus on traffic jam in space
The International Space Station's narrow miss last week highlights the risk of collisions with space junk.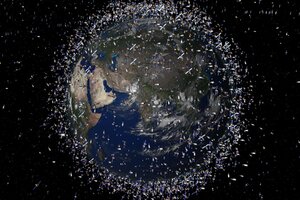 ESA/AP
Two Space Age surprises – a close encounter between the International Space Station and a speeding piece of space junk, and an earlier collision between a US and a Russian satellite – are adding urgency to the efforts to improve collision alerts and reduce risks from space debris.
Earlier this month, the US Air Force announced that it is designing a pilot program to extend a suite of satellite tracking and debris-related services to include civilian US and foreign satellite operators. The goal is to help operators reduce the possibility that their hardware could end up as space junk.
At the UN Conference on Disarmament, currently meeting in Geneva, the European Union offered a draft voluntary "code of conduct" for reducing the risk of collisions and lowering the likelihood of adding more junk to the spent rockets, dead satellites, paint chips, a tool bag, and other detritus already orbiting Earth.
Private groups have already been building and linking data from their own space-surveillance networks to provide information to satellite operators.
The near-miss at the space station last Thursday, as well as February's collision between a US and Russian satellite, "have served as a wake-up call," says David Finkleman, a senior scientist at the Center for Space Standards and Innovation in Colorado Springs, Colo. The center is the research unit for Analytical Graphics, Inc. an aerospace-software company.
---