Pilots distracted by laptops? Not in cockpits of the future.
Automated flight controls under research may be able to sense how alert pilots are. It's one way science could help prevent mistakes like the one made by the Northwest pilots who overflew Minneapolis by 150 miles.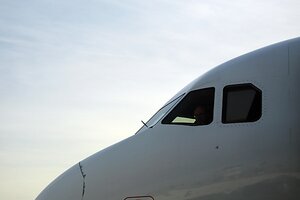 Newscom
As two Northwest pilots ponder their futures – minus their pilot licenses – researchers are developing new approaches for keeping pilots on their toes on long flights.
It's part of a larger effort to improve air safety over the next decade or two with the US Federal Aviation Administration's "NextGen" air-traffic control system.
NextGen draws on a range of high-tech approaches to give pilots more accurate information, about terrain and weather conditions, for instance. More aircraft flight-control systems will be automated. And air traffic controllers will receive more frequent and precise data, allowing them to pack more airliners along routes.
"There are lots of pieces to the puzzle, but I think there's a general recognition that it's time to move to the next-generation system," says R. John Hansman Jr., a professor of aeronautics and astronautics at the Massachusetts Institute of Technology in Cambridge, Mass.
A vital element of this research involves devising ways to keep pilots engaged when the trip is long and on autopilot.
The buzz phrase is "situational awareness," something the National Transportation Safety Board said the two pilots of Northwest Airlines Airbus 320 lost when they overshot the Minneapolis airport on Oct. 21 and traveled another 150 miles before they realized what had happened.
---