How to make reading online easier: Instapaper and Readability
Looking to improve reading online? Try the Readability app, which strips ads out of sight, and Instapaper, a great Web bookmarking tool.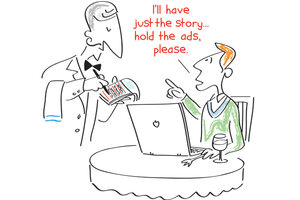 John Kehe/Staff
Even though the Internet provides more information, news, and prose than any library in history, people don't spend much time reading it. A 2008 study from the University of Hamburg found that online readers scan about 20 percent of the words on an average Web page. Our eyes don't really bother with the rest.
You can blame short attention spans, but don't ignore that reading online kinda stinks. Most websites are consciously designed to keep you clicking instead of digesting. The more you hop around, the more ads they can send your way.
So, short of wasting paper by printing out every interesting article you stumble upon, here are two ways to make online reading a painless, distraction-free experience.
First, let's eliminate the interference. The Web app Readability is a one-click clutter killer. If a site insists on tiny type, blinking ads, or more compartments and sidebars than a Piet Mondrian painting, Readability throws out the excess. It temporarily reformats the page, leaving only the main body of text and any mingling images. The app even swaps in a new, easy-to-read font.
---