Reddit rises as Web's best conversation
Social news site Reddit offers a warren of links, forums, and perspectives – including an interview with President Obama.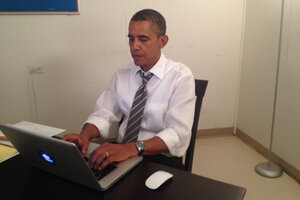 Obama For America/Reddit
Near the end of August, President Obama's campaign trail swung through a curious community. He stood before the digital crowds of Reddit.com and called out, "Hi, I'm Barack Obama, president of the United States. Ask me anything."
If this call for questions had rung out over Facebook or Twitter, it wouldn't have made much of a stir. Major social media sites have played a key role in both the 2008 and current presidential elections. But Reddit?
The social news site is a far cry from the omnipresent, family-friendly pages of Facebook and the pithy, personality-driven ethos of Twitter. But Reddit has a huge following among a particular breed of Web-savvy readers. Its warren of links, discussion forums, and Ask Me Anything interviews (or AMAs) racks up 3 billion page views a month.
Mr. Obama's interview could be a turning point for the seven-year-old site. Oprah Winfrey introduced Twitter to a mainstream audience in 2009 when she posted her first "tweet" on daytime TV. Now, the president's virtual visit may have hoisted Reddit's growing influence and further legitimized its highly successful AMA format.
---