From the back of a bike to the moon
American space research returns to its original launching pad in Huntsville, Ala.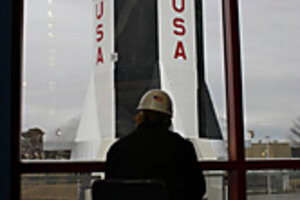 Patrik Jonsson
One of Tim Pickens's biggest breakthroughs in his lifetime quest to fling stuff into space came on the back of a regular old bicycle.
The Huntsville-born propulsion engineer, who speaks with a tangy drawl, had come up with a unique homemade rocket engine built using empty fire extinguishers and fueled by a mixture of asphalt and laughing gas.
"I was talking to my friend, and he said, 'You know, we ought to put that on a bike,' " Mr. Pickens says. "Next thing you know we're rolling a bike out. At the end of the day, we were riding down the road with that rocket bike, and the neighbors were all coming out looking and grinning, wondering what in the heck's going on out here."
In many ways, Pickens, who is helping the National Aeronautics and Space Administration develop the throwback Ares rocket that will replace the space shuttle, embodies both the past and future of Huntsville. This unassuming town changed irrevocably in 1958 when 118 German rocket engineers – members of Operation Paper Clip – quietly moved in to help launch the Americans into space.
As the city celebrates the 50th anniversary of the US space program on Thursday, Huntsville is counting down to its next apogee, now bearing the bulk of the responsibility for shortening what could be a five-year gap in the ability of US astronauts to access space once the space shuttle program shuts down for good in 2010.
In the process, this Watercress Capital-turned-Rocket City is again tapping into the garage ethics, vivid imagination, and can-do attitude of the Germans, who over time became even more beloved by locals than the hush puppies at the Greenbrier Restaurant.
---