Space shuttle Atlantis to launch with Columbus lab
The European Space Agency's long-term plans for manned space flight rest on the successful launch of the module scheduled Thursday.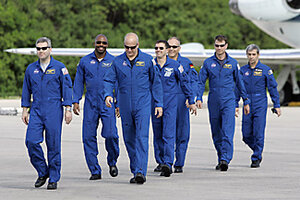 John Raoux/AP
The United States and Russia are about to get a new long-term neighbor on the International Space Station.
The space shuttle Atlantis is set for launch Thursday – barring bad weather – to carry Europe's $1.6 billion Columbus laboratory to the orbiting outpost. Coming after a two-month delay due to technical problems, the launch is a coming-out party of sorts for Europe's manned-spaceflight program.
It is also a test case for legal agreements on collaborative space exploration.
The Columbus lab plays a key role in the European Union's long-term plans for manned spaceflight, including future planetary exploration. After nearly 25 years of designs and redesigns, renegotiated agreements, and launch delays, Europe will finally see its hardware in orbit.
"We have been through difficult times, but we have overcome them together," says Daniele Laurini, the European Space Agency's liaison with the Johnson Space Center in Houston.
In March and April, the major components of Japan's lab are scheduled for launch as well, bringing the station closer to completion.
The Europeans are wasting no time putting the 10.3-ton lab to work. Atlantis's seven-member crew includes two European astronauts. Both will help get the lab ready for use once it's mated to the station. One will remain on the station to conduct experiments.
---