WISE set to search for universe's hidden 'dark' objects
NASA is scheduled to launch its WISE space observatory Monday. It will map the whole sky in infrared wavelengths, potentially revealing objects many telescopes can't see.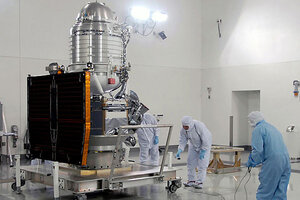 Moore/VAFB/ NASA/AP
Early Monday morning, after two delays, NASA is scheduled to launch an unmanned orbiting observatory that promises to greatly enhance, and significantly change, humanity's understanding of the heavens.
The Wide-field Infrared Survey Explorer (WISE) is expected to launch from Vandenberg Air Force Base near Santa Barbara, Calif., between 9:09 and 9:23 a.m. Eastern time. From its eventual orbit 325 miles above earth, it will begin a blitz of picture-taking with equipment of unprecedented sensitivity. WISE will map the heavens on four infrared channels, frequencies of long-wave radiation that are invisible to the human eye and many telescopes.
The end-product of the 10-month mission will be a publicly available catalog of photos that, once stitched together and processed, will offer a portrait of the whole sky in unequaled crispness and detail.
"It really is going to be our GPS [Global Positioning System] for astronomers," says Amy Mainzer, WISE deputy project scientist, from the launch site at the Vandenberg Air Force Base near Santa Barbara, Calif. "No matter what you like, we'll have something for you."
Seeing 'dark' celestial bodies
---