Life on Saturn's moon Titan: Who needs water anyway?
The search for life on Saturn's moon Titan shows that organisms appear to thrive on far less water than conventional wisdom holds is needed to keep microbes active and alive.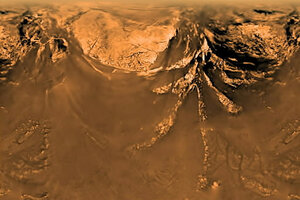 If life gained a foothold on Saturn's moon Titan, what would it be like?
Organisms with a persistent case of malodorous breath? Blood based on liquid methane? Life forms more like lichen than house cats?
That's a picture painted by British astrobiologist William Bains at a Royal Astronomical Society astronomy meeting in Glasgow last week.
But Dirk Schulze-Makuch suggests something simpler, if just as exotic: single-cell Titan residents, similar to the liquid-asphalt-loving species he and his colleagues have discovered in Pitch Lake, a natural pool of liquid asphalt on the island of Trinidad in the Caribbean.
These organisms thrive on liquid hydrocarbons. Lakes filled with liquid methane and other hydrocarbons cover up to 10 percent of Titan's surface at times -- part of what researchers term the moon's hydrocarbon cycle, similar to Earth's water cycle.
---