Experts: Most of Gulf of Mexico oil spill won't be cleaned up
Despite BP's efforts, only a small percentage of the oil from the Gulf of Mexico oil spill will be cleaned up, say experts.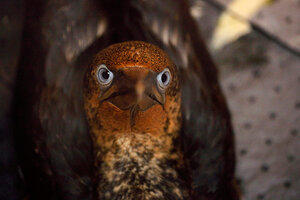 Carlos Barria/Reuters
BP is attacking the oil spill in the Gulf of Mexico on all fronts, from the traditional skimmers and booms to more advanced technologies. But history and science suggest this clean-up effort probably won't end in a spotless environment.
BP Chief Executive Tony Hayward said the company would do "everything in our power to contain this oil spill and resolve the situation as rapidly, safely and effectively as possible," according to news reports. The company, which was leasing the Transocean oil rig that exploded and sank on April 22 in the Gulf, is responsible for the clean-up.
And yes, all hands are on deck – skimmers, booms, domes, controlled burning and chemical dispersants – to try to clean up the 1,000 to 5,000 barrels a day estimated to be leaking out of the well.
IN PICTURES: Louisiana oil spill
However, for an oil spill at sea, typically only 10 to 15 percent of the oil is recovered, Gerald Graham, president of Worldocean Consulting, a marine oil spill prevention and response planning firm based in British Columbia, told LiveScience.
---