Mysterious 'bearded antelope' photographed in the wild
While traveling through Kenya's Masai Mara National Reserve, veteran wildlife photographer Paolo Torchio caught a glimpse of an oddly hirsute gazelle.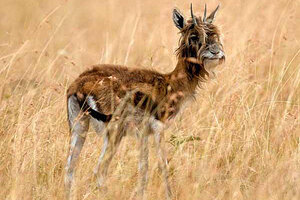 Paolo Torchio
When Paolo Torchio set out across Kenya's Masai Mara National Reserve a few weeks ago, it was just a typical Thursday morning for the veteran wildlife photographer, who has lived and worked in Kenya for two decades.
Torchio is intimately acquainted with the beasts that wander the nearly 600-square-mile (1500-square-kilometer) game reserve, so he was astonished to see a terrier's face poking out of the tall grass.
"I was wondering, what is this dog doing?" Torchio said. "And when it came out from the grass, that was a surprise."
The hirsute creature that emerged was clearly not a dog. The animal had all the markings of a Thomson's gazelle (a type of antelope) — but, like that old song from Sesame Street, one of these kids was not like the others. This animal was covered with a strange, thick coat of hair, in stark contrast to the sleek Thomson's gazelles in its company.
"The funny aspect was that it wasn't affecting the relations with the other gazelles," Torchio said in a phone interview. "There was no problem between her and the other one."
---