Comet Hartley 2 to swing by Earth Wednesday
Comet Hartley 2 will make its closest approach to Earth tomorrow, and is best viewed with binoculars or a low-magnification telescope.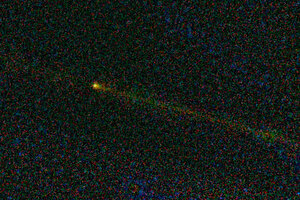 NASA/JPL-Caltech/UCLA/Handout/Reuters
This week a fairly bright comet is visible in the northeastern sky and makes its closest approach to Earth tomorrow (Oct. 20), though it may be difficult to spot without clear conditions well away from city lights.
For a few nights at mid-week, Comet 103P/Hartley 2 will be perfectly placed in the bright circle of stars that form the constellation Capella.
This sky map shows where to look to spot the comet, weather and lighting conditions permitting. Binoculars or a small telescope are advised to obtain the best viewing conditions.
Space photos of the day: Comets
Rare comet encounter
Bright comets are rare, perhaps one every three to five years. It's impossible to tell far in advance how bright a comet may be.
Comet Hartley 2 was discovered by Australian astronomer Malcolm Hartley 24 years ago. It's only in the last few days that it has become bright enough to be spotted with binoculars or the naked eye.
This SPACE.com Comet Hartley 2 skywatching guide describes how to see the celestial event.
---