Did scientists breed mice that 'smell' light?
A group of scientists genetically altered mice to allow them to 'smell' light in a study designed to a mouse brain's response to outside stimuli.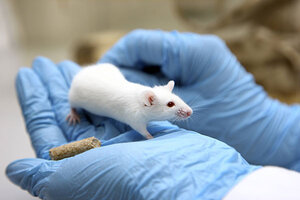 Newscom
A group of scientists has genetically altered mice so they could "smell" light. That is their neurons responded to light in the same way they would to an odor. This allowed them to study the brain's response without having to deal with the complications associated with smelling.
The approach the scientists used to help the mice "smell" the light is called optogenetics. The method uses light to control actions within other specific cells and is broadly applicable.
The results were detailed online Oct. 17 in the journal Nature Neuroscience.
Coding for smell
The noses of mice (and humans) are chock-full of sensory neurons that respond to scent molecules that waft by. That odor information gets sent to the olfactory bulb, a part of the brain above the nasal cavities, where the sensory neurons meet up with relay neurons. These two types of neurons then meet within structures called glomeruli.
"If you look at two cells receiving input from the same glomerulus, are they just passing it on [in] the same way, or is there something more to it?" said study researcher Venkatesh Murthy from Harvard University, who collaborated with others at Harvard, Cold Spring Harbor Laboratory and in India.
---