Are night owls smarter than early birds?
One study says that people who stay up late have higher IQs than 'morning people.' But night owls may not make smart choices.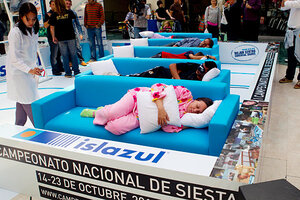 Paul White/AP
Are night owls really more intelligent than morning larks? Does it matter?
London School of Economics researcher Satoshi Kanazawa says that folks who stay up late have higher IQs than people who start their day early.
He also suggests that this is a relatively new phenomenon in the span of human history. Nocturnal activity was a dangerous thing prior to the advent of fire. He says today's night owls are defying ancestral-genetic tendencies, according to his article in Psychology Today. Kanazawa wrote the book titled: "The Intelligence Paradox: Why the Intelligent Choice Isn't Always the Smart One."
Kanazawa's research is not conclusive. It simply notes that Americans who go to bed late would appear to have higher IQs than those who go to bed early.
But he doesn't explore whether those night owls do better in school, or in the workplace, or are happier.
---